Graaff-Reinet, and the Camdeboo National Park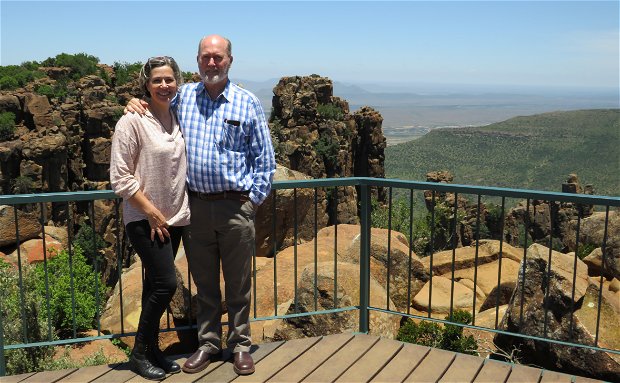 Graaff-Reinet, the fourth oldest town in South Africa, is unique in that it is virtually surrounded by a National Park, the Camdeboo National Park.
Graaff-Reinet is the fourth oldest magisterial district in South Africa, having been established in 1786 by the Dutch East India Company.  The town boasts a number of museums and art galleries, but is probably better known for the Valley of Desolation, just outside of the town.
The Valley of Desolation consist of sheer cliffs and giant rocks, precariously balanced.  It was formed over 100  million years ago by a violent volcanic shift.  The sheer cliffs drop sharply to the valley floor 120 meters (390 feet) below.  It is an incredible sight! 
But, it's not just about the Valley.  On the other side of the main road, you'll find the rest of the Camdeboo National Park.  It is a relatively small park at only 194 sq km (120 sq miles), but still boasts several antelope species, including Red Hartebeest, Springbok, Duiker, Gemsbok, Eland as well as Cape Buffalo and Mountain Zebra.  You'll also see other little critters, some of our favourites are the Bat-eared foxes, Meerkat (Suricate) and Dassies (Rock Hyrax).  There are of course also numerous bird species to be seen in the Park.
One day, we'd really like to do one of the hikes that the Park offers.  We'll probably start with the 5km hike, and work our way up to the 11km and then the 14km.  The hikes include stop overs at the picnic sites.
One of the great attractions to the Park is the Nqweba dam.  Whilst the level of the dam fluctuates widely as a result of the unreliable rainfall in the Karoo, the dam is used for a variety of water sports.  Of course there would be an angling zone for the fishermen too!