About us
Knowledge and passion
Alan was born in Somerset East and grew up on a farm outside the village of Pearston in the Eastern Cape Karoo. He has in depth knowledge of both the area and the wildlife. Annabelle was a city girl, but has adapted perfectly to the vast open spaces and solitude that is the Karoo.  They are passionate about the Karoo, it's people, places and stories.
Together they developed the Angler and Antelope Guesthouse in Somerset East, converting an old Roman Catholic church building into a culinary centre, with a whisky bar that now has over 80 single malt whiskies!  Alan has pioneered Wild Fly Fishing in the Karoo and shares his knowledge passionately, infecting anyone who has even and inkling of interest in fishing.
Their latest venture, A&A Adventures is an opportunity for guests to experience the beautiful surroundings.  Day trips and longer tours can be personalized to your requirements; just talk to them and they will create an unforgettable experience.
Contribution to Fly Fishing
Alan and Annabelle have been instrumental in developing fly fishing in the Eastern Cape, and continually contribute to the preservation of trout fishing in the Eastern Cape and South Africa.
"I ended my speech by making a selection - after first clearing it with Gordon - of the participant I thought had made the greatest contribution to freshwater fly fishing in South Africa over the last five years. I gave it to Alan and Annabelle Hobson of the Angler & Antelope along with a modest tinted, pen and ink sketch of a leaping brown trout. It was a popular choice judging from the accolades the announcement received, and they deserve it." Tom Sutcliffe, at the inaugural Fly Tying and Fly Fishing Expo held in Somerset West in 2016.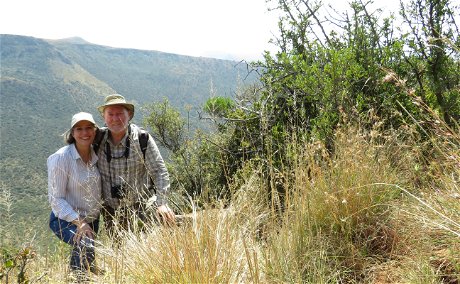 What do we do?
We help you to experience the undiscovered beauty that is the Great Karoo.
What we do